Investment gold
Gold has a thousand-year history of monetary usage and represents real value. Compare to fiat currency, gold represents security in preserving value, especially in times of financial and political crises. In the current geopolitical situation, investment in precious metals is essential in preserving wealth.
Investment gold sales
BESSERGOLD sells investment gold online, as well in our office in Praha 1, where we are very happy to assist you.
Investment in gold
We sell investment gold as investment bars and investment coins, of different weights and sizes.
Why invest in gold?
There are many reasons to invest money in gold. Above all, it is a long-term evaluation of your funds. Gold is an excellent store of value, saving gold is much more advantageous than most bank services or equity investments. The most popular way to invest is with gold bars or gold coins. Gold bars offer the best price per gram but depend on fluctuations in gold prices on the stock exchange. Gold coins are a suitable alternative to ingots and at the same time, in addition to investment coins, there are also commemorative coins. All gold bars and coins are exempt from VAT by law.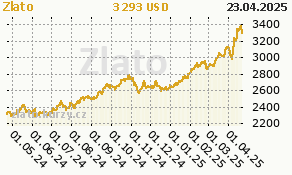 The main factors that influence the development of investment gold prices include the US dollar exchange rate, interest rates and inflation. The price of investment gold also responds to supply and demand, which is dependent on global events in the world. Investment gold is a popular helper in times when people fear the devaluation of funds. Although gold as a commodity is experiencing ups and downs, in the medium and long term, investors always rely on it.
And if you are not interested in investing in gold, you may be interested in investment silver.
Commodities and derivatives from the Kurzy.cz website.